In Memory
Ruthie Keller (Brewer)
Ruth "Ruthie" Keller Brewer
NOVEMBER 26, 1952 – MAY 29, 2019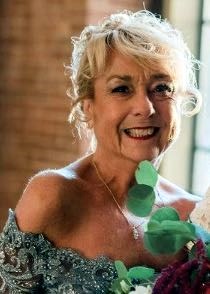 Ruth ("Ruthie") Keller Brewer, 66, passed away May 29, 2019 in her home. A memorial service will be held 11:00 a.m. Monday, June 3 at Hanes Lineberry Funeral Home at 515 N. Elm St., Greensboro, NC. There will be no formal visitation. She is survived by her husband, John King Brewer, Jr. of Greensboro, NC, brother Stephen Keller (Mary Wallis) of Alpharetta, GA, her sons: Jeff Brewer (Kim) of Greensboro, NC, David Brewer (Leslie) of Kennett Square, PA, Eric Brewer (Michelle) of Arvada, CO, Jason Brewer (Jose Pablo Rojas-Brewer) of Montezuma, NM, her daughter, Laura Brewer Bermudez (Brian) of Swansea, MA, grandsons: Carson Brewer, Ty Brewer, and Austin Brewer of Kennett Square, PA and Benjamin Brewer of Greensboro, NC, and her beloved grand-puppies: Caña, Waldo, Stamps, Vegas, Skylar, Livvy, Piper, Canela, and Natty.
Ruthie was born in St. Louis, MO and moved to Greensboro her senior year of high school. She spent her days as a young woman among her beloved horses Satan, Major, and Friday. Her husband, Jack, even proposed to her on horseback. They celebrated 45 years of marriage on May 18. Ruthie worked as a travel agent for over 20 years and her house was adorned with mementos from the many beautiful beaches and countries she visited with Jack. Ruthie found the most joy watching the Weather Channel, shopping at Harris Teeter, baking in the sun, and spoiling her grandpuppies. More than anything, she loved her children and grandchildren and never missed an opportunity to boast about them to anyone who would listen.
In lieu of flowers, memorials may be sent to the SPCA Of The Triad. Hanes Lineberry N. Elm Funeral Home is assisting the family.
https://www.dignitymemorial.com/obituaries/greensboro-nc/ruth-ruthie-keller-brewer-8728702?fbclid=IwAR3RxtoitmHpXcRRFW4yTvDMInTWrpoL0dmvuGR-6Gz4u7Lbjq2u3MccA0o